The Good Disciples – The Mountain Path
The Good Disciples new album, The Mountain Path celebrates the 50th anniversary of Shivkumar Sharma, Brijbushan Kabra and Hariprasad Chaurasia's seminal world music classic Call of the Valley. Contemporary masters of Indian/Eastern music Kiranpal Singh (Santoor), Fabrice De Graef (Bansuri Flutes) and Shahbaz Hussain (Tabla) chart thirteen paths of Harmonic reflection across the valley of transcendence and exultation, following a divine mountain path. Having worked together on numerous far ranging projects for globally renowned artist/producer Youth and music business veteran Renato Roversi's Suriya Recordings label, this album is a landmark release for a world desperately in need of the spiritual reformation music allows. Produced and mastered by Luke Fitzpatrick, an integral part of Youth Sounds deeply prolific and innovative coterie of music makers at London's Meridien Studios in 2017/18, the album has been supervised by Frances Shepherd and Anjan Saha of Indian Music educators/promoters PRSSV.
This masterly trio become totems of musical enchantment, as seen in Youth and Fitzpatrick's beautiful cover image. In establishing a new sound for the sacred, they survey a quite different valley; a destination at the core of all current journeys towards peace and salvation. The Good Disciples direct us. Now open your hearts and receive.
Musicians
Kiranpal Singh
Fabrice De Graef
Shahbaz Hussain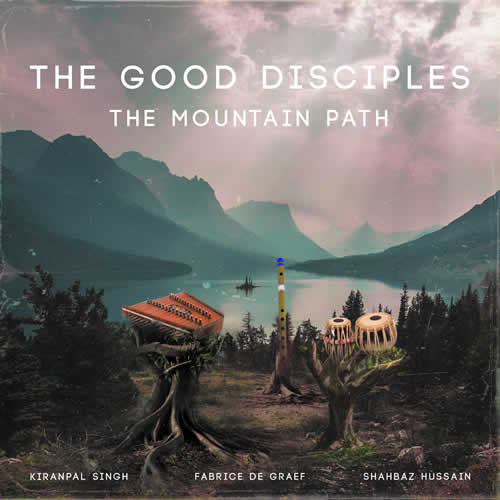 Listen
Available on digital download only