Dwarka
Recorded in January 2022 at the Angel Studios / Abbey Road Institute in London/UK
Out 25/11/2022
Andrea Seki & Youth –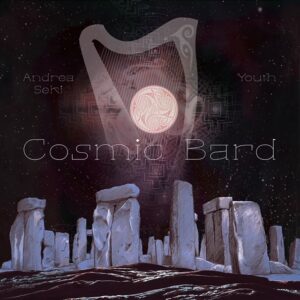 Cosmic Bard
Andrea Seki and Youth merge the musical with the mystic in this harp scented saga across seven songs. No words are needed when beats and  strings sound ecstatic. New Aeon Music as opposed to New Age, where dreams throng. These pieces provide divine inspiration. In these sounds and spaces are when we should belong.
Produced by Youth
Out 25/11/2022
Rizwan & Muazzam Ali Khan  –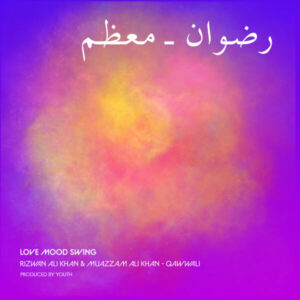 Rizwan & Muazzam Ali Khan – LOVE MOOD SWING
Produced by Youth
Out 29/07/2022
Marcia Mello  –
MARCIA MELLO – QUEEN OF PORTOBELLO
Produced by Youth
Out 25/03/2022
Merry McCloud –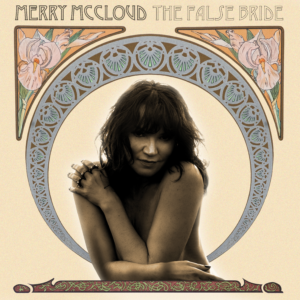 MERRY McCLOUD – THE FALSE BRIDE
Produced by Youth
Out 29/10/2021
David Erdos –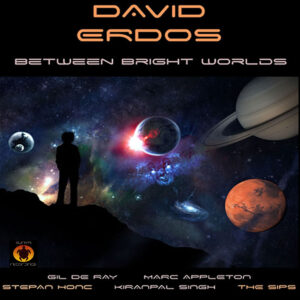 Renato Roversi and Suriya Recordings Presents the debut release of:
DAVID ERDOS: BETWEEN BRIGHT WORLDS
A Poemusic EP (Suriya Recordings 2021)
Featuring GIL DE RAY, STEPAN HONC, KIRANPAL SINGH, MARC APPLETON, THE SIPS
The Krishnas –
A celebration of George Harrison, Hare Krishna and the 50th anniversary of Apple Records releasing the first World Music Album 'The Radha Krsna Temple' an album by George Harrison and Radha Krsna Temple and 'Hare Krishna' reaching Number 12 in the charts!
Available as download, Vinyl two track single and CD with photo booklet
Paya –
Paya Lehane and Youth fill the sky with a new album of ambient ecstasy. Sung in a beautifully invented language ten pieces fuse acoustic and electronica into exquisite requiems to enchant and evolve song. Each moment glistens as the notes form a climate in which the listening heart attains grace.
Out on digital 28/09/2020
Indotranceltic  –
Celtic/Pagan folk music, Indian vibes and Psytrance. A cocktail of ancient music and spiritual energy against a backdrop of electronica and psychedelia.
Arthur Navarro  –
Inspired by the chants of the natives of north Brasil Amazon​ Forest, Arthur's Feather Trail is a colourful musical journey, back to native's roots. It is an exchange of questions and answers within humans and macaws.
Dedicated to mother nature.
Nadav  –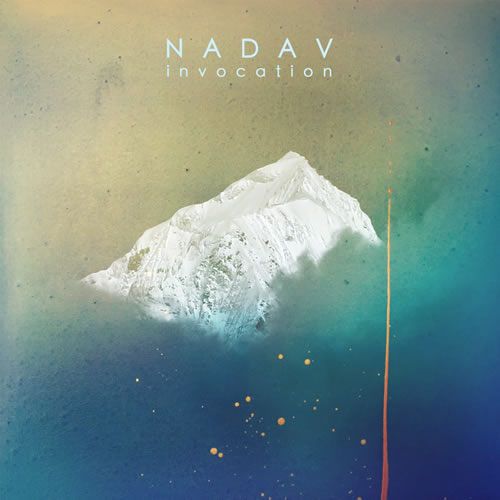 I N V O C A T I O N  is the new album from NADAV released by Suriya Recordings.  All songs originate from traditional lyric content derived from Vedic sacred texts, adapted and composed by Nadav Kahn. Out on digital 25/10/2019. Pre-release 27/09/2019
The Good Disciples –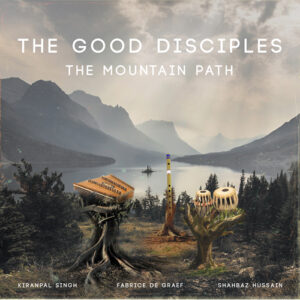 The Mountain Path celebrates the 50th anniversary of seminal World Music Classic Call of the Valley, a 1967 album by Hariprasad Chaurasia, Brij Bhushan Kabra, and Shivkumar Sharma. The Good Disciples are Santoor  Kiranpal Singh  and Bansuri  flute Fabrice De Graef . They are accompanied by Pakistani Tabla  Shahbaz Hussain.
Abraham Carmona –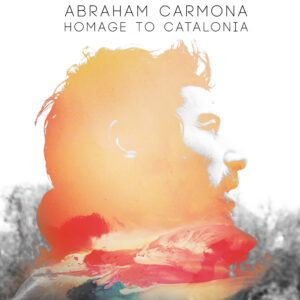 Abraham Carmona Flamenco heritage meets Youth's production ambiance in Homage to Catalonia. A sublime, heartfelt, deep and spell bounding debut album for Suriya Recordings to be released on October 29th 2018.
Arthur Navarro –

Cover artwork painting by Youth
Polyphonic Omnipresence is the debut album of artist and producer Arthur Navarro, to be released by Suriya recordings on October 29th 2018. The album embraces sonorities from South America's native chants, Europe's classical music and Indian mystical instruments, and is an invitation for the listener to a sensorial and ethnical voyage. Ornamented with a strong anthropophagous and mystical character, Polyphonic Omnipresence is a musical work that maintains the transcendentalism, the sense of ancestry and the universality of Music being the basic foundations for its expansive sonority. Build and entangled through predominantly organic arrangements that mixes Eastern and Western influences, idiosyncratic textures and intricate vocal experiments in ancient and obscure liturgical languages (such as South American's Kraó and India's Sanskrit), the album takes a tour by points of origin of different civilisations in order to glimpse a culture of its own and to develop a new sound landscape that expresses the artist's plural cultural view allied to his spirituality, what makes Polyphonic Omnipresence a personal musical manifestation influenced by primordial cultures that resists echoing in the contemporary.