Monday 29 October 2018 / 7pm
Bush Hall, 310 Uxbridge Road, London, W12 7LJ – View Map
Suriya ALIVE presents Flamenco fusion song smith Abraham Carmona, who explores modern expressions of timeless traditional Flamenco Palos (distinctive rhythms) with world-ambient, electronic beats and jazz influences with his two new albums 'Homage To Catalonia' (rel date 26th Oct, Suriya Recordings) and 'Ibiza' (rel date 5th October, Liquid Sound Design). "
Join us for an intimate evening as we showcase both releases.
Supporting acts:
* Arthur Navarro Quartet will be performing music with visuals from his debut album 'Polyphonic Omnipresence'
* DJ Robin Triskele on the decks.
TICKETS
£8 advance / £10 on door
Book Now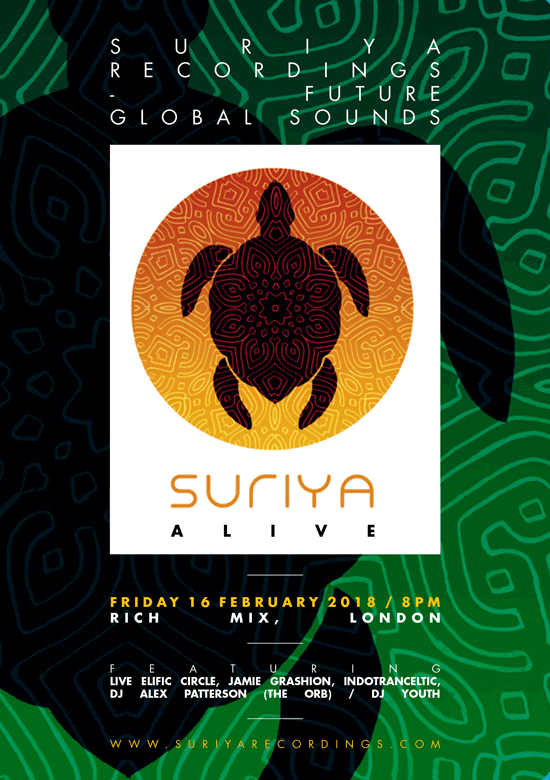 Friday 16 February 2018 / 8pm
Rich Mix, London, E1 6LA
Suriya ALIVE brings alive the music from Martin Glover aka YOUTH's new label Suriya Recordings. Suriya – Future Global Sounds "A new platform for musicians from around the world, combining ancient musical artforms with sonic treatments."
DJ Youth (Martin Glover) has achieved near mythical and a somewhat legendary status as a musician, artist, producer and DJ.
DJ Alex Paterson the Godfather of ambient house and co-founder of The Orb.
Elfic Circle showcase their release Bardik Springs double album. Celtic Harp explores paths that combine the contemporary bard traditions with different ethnical genres.
Jamie Grashion AKA Cosmic Trigger producer/mixer, has worked with the likes of The Orb, Gaudi and many more.
Indotranceltic recently released new album Stone Horse —
"western and Indian strings combine with bansuri and Electronica, creating expansive emotional soundscapes."
TICKETS
£7 advance / £10 on door
Book Now